Simon Hughes admits that the party's election results were "disappointing" and that the local income tax policy was partly responsible.
Failed Lib Dem candidate Tony Dawson has been caught out doctoring photos on election leaflets.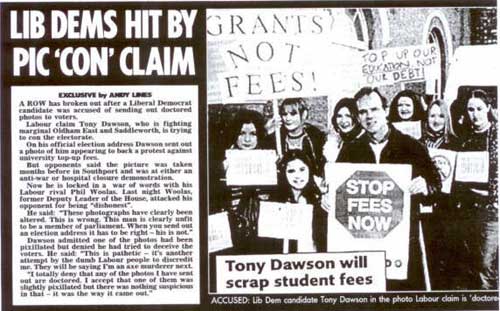 While her predecessor held open surgeries to which anybody could turn up four times a month, new Lib Dem MP Lynne Featherstone has allegedly only held a surgery for "emergency cases" which constituents were told was already "fully booked". But that's OK. Rumour has it that she has employed two press officers…
Losing Lib Dem candidate for Luton North Linda Jack hit the nail on the head in her speech at the count: "The problem is we have slipped back into a two party-party politics game – even though we had some really good responses on the doorstep, I think people want a change, it's just they don't feel they can have the confidence in the Lib Dems to run the country."
Lib Dem councillors have been defecting to the Conservatives in their droves.
And finally Mike Hayward emails in, rather missing the point of this site:
I hope that you don't pay to much for the domain name of this awful site. It doesn't represent a fair or even remote fairness to anyone or anything. You just slag off liberal democrats. The problem with politcal parties is that they are all made up of diffeent people even the torries have their share of idiots… If you are going to slag of politicians and political parties at least do it fairly.