A Lib Dem bar chart can be used to prove anything. Often, it tries to prove the exact opposite of the truth.
A good example of this has come our way from the Liberal Democrats in Rhiwbina ward, Cardiff. They have used the number of seats won at last June's Council elections. Not only is this now wrong (a Lib Dem Councillor has since defected to Plaid Cymru), but they also state that "the Conservatives and Plaid can't win here".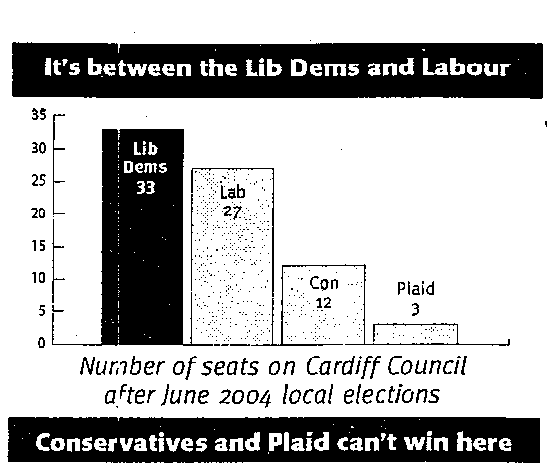 Scratch beneath the surface and this isn't quite the case.
The June 2004 Election results for Rhiwbina ward were as follows:
Gareth John Jarvis Neale Conservative 2698 Elected
Jayne Louise Cowan Conservative 2617 Elected
Robert Adrian Robson Conservative 2335 Elected
Peter Henry Owen Labour 1100
Steven Bowden Lib Dem 1019
Norman Watson Labour 972
Patricia Joyce Azzopardi Lib Dem 916
Geoffrey Jones Labour 896
Alastair Hamilton Meikle Lib Dem 786
Falmai Griffiths Plaid Cymru 481
Ann Brain Plaid Cymru 475
The result from the 2003 Assembly Election in Cardiff North was as follows:
Susan Essex LAB 10413
Jonathan Morgan CON 9873
John Dixon LD 3474
Wyn Jones PC 2679
Donald Hulston UKIP 1295
And finally, the result in the 2001 General Election for Cardiff North was as follows:
Julie Morgan Labour 19,845
Alastair Watson Conservative 13,680
John Dixon Liberal Democrat 6,631
Sion Jobbins Plaid Cymru 2,471
Don Hulston UK Independence 613
Now we're not experts in the politics of Cardiff, but something suggests to us that this is a straight Labour vs Conservative fight.